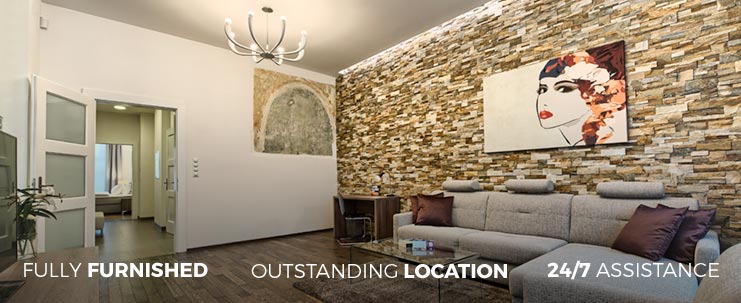 Three bedroom Prague apartments for rent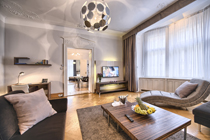 Outstanding location next to Parizska street and Old Town Square

Nice three bedroom apartment with separate kitchen and living area

Enjoy large balcony in the apartment

Suitable for large family or groups
This unique and large apartment rental in Prague offers three bedrooms and outstanding location in the centre of Prague. It has three spacious bedrooms for your comfort and privacy. It is laid out as follows: entrance, WC, storage room, fully equipped kitchen with dishwasher, very large living room, balcony, three double bedrooms with walk-in dressing room, two bathroom/WC, washing machine, TV and satellite. Furthermore Residence Brehova may offer you lift and for your safe there is a porter who is available 24/7.
Prices start at
Daily
Weekly
Monthly
213 EUR
1120 EUR
3921 EUR
Apartment detail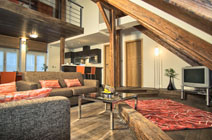 Charming two bedroom apartment in Residence Rybna

Outstanding location in the centre of Prague

Suitable for couples and family

The lowest price guarantee
On the third floor of this superb residence is a typical duplex Prague apartment which is kind of penthouse, the most unique of all. This Prague rental have three large bedrooms, outstanding living are with fully equipped kitchen and two spacious bathrooms with bathtubs and shower. Residence Rybna is situated in the real centre of Prague. But even if the location is excellent the apartment rental is very quiet and is it suitable for families with small children as well as for group of travellers to Prague.
Prices start at
Daily
Weekly
Monthly
205 EUR
1080 EUR
3791 EUR
Apartment detail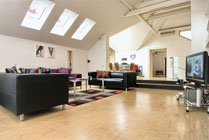 Suitable for large families or group of friends

Two bathrooms for your comfort

Unbeatable location just on the King's road

Private terrace for barbecue or romantic dinner available
This very spacious 3 bedroom / 2 bath apartment offers a unique opportunity to stay with your family or friends right in the middle of medieval Prague – just on the King's road leading to the Charles Bridge. Recently reconstructed 14th century building provides all guests with the maximum comfort and privacy. Apartment is suitable for up to 8 persons in 3 roomy bedrooms, in the respect of that this is a really good choice for families or a group of friends. The apartment is equipped with all the modern amenities e.g. plasma TV, DVD, air-con etc and of course with a fully functional kitchen with all cooking appliances and dinning equipment.
Prices start at
Daily
Weekly
Monthly
205 EUR
1080 EUR
3791 EUR
Apartment detail