Three-bedroom apartment in Residence Karlova (150 m2 area)
Unfortunately this apartment is no more available for rent
Please see other three-bedroom apartmentshere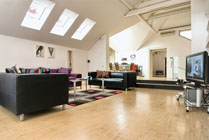 Suitable for large families or group of friends

Two bathrooms for your comfort

Unbeatable location just on the King's road

Private terrace for barbecue or romantic dinner available

Situated on a 3rd floor
This very spacious 3 bedroom / 2 bath apartment offers a unique opportunity to stay with your family or friends right in the middle of medieval Prague – just on the King's road leading to the Charles Bridge. Recently reconstructed 14th century building provides all guests with the maximum comfort and privacy. Apartment is suitable for up to 8 persons in 3 roomy bedrooms, in the respect of that this is a really good choice for families or a group of friends. The apartment is equipped with all the modern amenities e.g. plasma TV, DVD, air-con etc and of course with a fully functional kitchen with all cooking appliances and dinning equipment.
On the top of that you can enjoy sunny evenings on the large private adjoining terrace which is a perfect place for a barbecue party or just to enjoy a bottle of wine.
Make Reservation
Apartment prices
Prices start at
Season
Daily
Weekly
Monthly
Low *
230 EUR
1200 EUR
4380 EUR
High *
280 EUR
1660 EUR
6060 EUR

* Low season - November to March (except Christmas and New Year's Eve) / High season - April to October

Price includes:

apartment rent includes all utility costs (gas, electricity, garbage disposal etc.), the rental also includes set of towels and toiletries. Anytime during your stay you can request their additional replenishment and towels exchange as well as complete maid service including fresh bed linens. Small charge will apply for these extra services.

Check conditions for airport transfers

NO HIDDEN EXTRAS

Make Reservation
/* // tady byl script na kalendar */
Apartment location
more ...
About the area
more ...
Charles Bridge - 0.4 km

National Theatre - 0.8 km

Old Town Square - 0.5 km

Wenceslas Square - 0.3 km
Apartment location
Apartment location
Apartment area
Charles Bridge - 0.4 km

National Theatre - 0.8 km

Old Town Square - 0.5 km

Wenceslas Square - 0.3 km