Milosrdnych Apartments apartments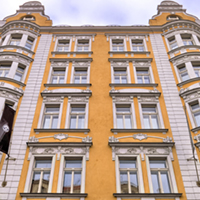 U Milosrdnych 6, Prague
Convenient location close to Old Town Square

Few minutes walk from major sights of Jewish Quarter

Quiet and prestigious neighborhood

Recently renovated historical building
Apartment location
more ...
Apartment location
Apartment location
Apartment area
Charles Bridge - 1.1 km

National Theatre - 1.7 km

Old Town Square - 0.5 km

Wenceslas Square - 1.1 km
Guest reviews
more ...
Beautiful Apartment and Great Location
We had a wonderful stay at this apartment. The location is about two blocks from the river and about two blocks east of the Cechuv most bridge, near the InterContinental Hotel. The location was perfect for us and we walked everywhere. We stayed for a week during the Christmas holidays and really ...
Guest review
Great place for New Year eve! Thank you for your hospitality
Available apartments for rent in Milosrdnych Apartments
Sorted by square meters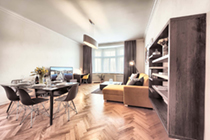 Brand new apartment (2017)

Very spacious and quiet apartment

Few minutes walk from Jewish Quarter

Situated on a 3rd and 5th floor
Prices start at
Daily
Weekly
Monthly
180 EUR
950 EUR
3430 EUR
Apartment detail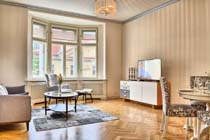 Spacious and quiet apartment

Few minutes walk from Jewish Quarter

Elegant, classic style furnishing

Situated on a 3rd floor
Prices start at
Daily
Weekly
Monthly
180 EUR
950 EUR
3430 EUR
Apartment detail