Milosrdnych Apartments apartments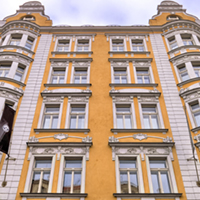 U Milosrdnych 6, Prague
Convenient location close to Old Town Square

Few minutes walk from major sights of Jewish Quarter

Quiet and prestigious neighborhood

Recently renovated historical building
Apartment location
more ...
Apartment location
Apartment location
Apartment area
Charles Bridge - 1.1 km

National Theatre - 1.7 km

Old Town Square - 0.5 km

Wenceslas Square - 1.1 km
Guest reviews
more ...
First time visit to Prague
This is a charming old apartment, recently renovated with excellent facilities. It is in a great location which was very quiet at night. Highly recommend.
Best location
We enjoyed our stay very much. Very good location. The two bedrooms are always calm. And the apartment is really very nice. Between 11.pm and 01.00 am the noise from Drunken Monkey (or just from the people leaving the pub) could be embarrassing ifyou try to sleep in the living room with opened win ...
Available apartments for rent in Milosrdnych Apartments
Sorted by square meters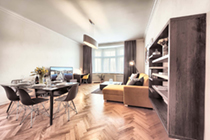 Brand new apartment (2017)

Very spacious and quiet apartment

Few minutes walk from Jewish Quarter

Situated on a 3rd and 5th floor
Prices start at
Daily
Weekly
Monthly
209 EUR
1240 EUR
4000 EUR
Apartment detail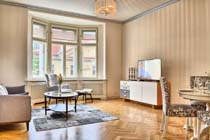 Spacious and quiet apartment

Few minutes walk from Jewish Quarter

Elegant, classic style furnishing

Situated on a 3rd floor
Prices start at
Daily
Weekly
Monthly
189 EUR
1120 EUR
3610 EUR
Apartment detail