Milosrdnych Apartments apartments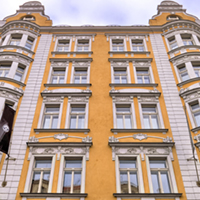 U Milosrdnych 6, Prague
Convenient location close to Old Town Square

Few minutes walk from major sights of Jewish Quarter

Quiet and prestigious neighborhood

Recently renovated historical building
Apartment location
more ...
Apartment location
Apartment location
Apartment area
Charles Bridge - 1.1 km

National Theatre - 1.7 km

Old Town Square - 0.5 km

Wenceslas Square - 1.1 km
Guest reviews
more ...
We love ❤️ Prague
We were completely happy with our visit to Prague! Staying in an apartment setting gave us the feeling of living in Prague instead of just staying in a hotel! This was our first experience at using an apartment for a vacation. And we would like to do it again now! But also having the front office ...
Family vacation
The apartment is beautiful and modern with views of a historical church. Beds were comfortable, the kitchen was fully equipped and two bathrooms were a big bonus. We loved the quiet neighbourhood with wonderful restaurants and shops away from the crowds yet just a short walk to most attractions. We ...
Available apartments for rent in Milosrdnych Apartments
Sorted by square meters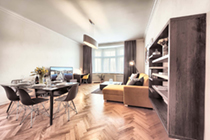 Brand new apartment (2017)

Very spacious and quiet apartment

Few minutes walk from Jewish Quarter

Situated on a 3rd and 5th floor
Prices start at
Daily
Weekly
Monthly
209 EUR
1240 EUR
4000 EUR
Apartment detail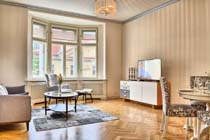 Spacious and quiet apartment

Few minutes walk from Jewish Quarter

Elegant, classic style furnishing

Situated on a 3rd floor
Prices start at
Daily
Weekly
Monthly
189 EUR
1120 EUR
3610 EUR
Apartment detail