Milosrdnych Apartments apartments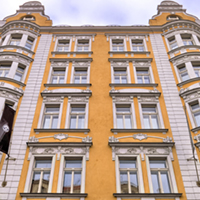 U Milosrdnych 6, Prague
Convenient location close to Old Town Square

Few minutes walk from major sights of Jewish Quarter

Quiet and prestigious neighborhood

Recently renovated historical building
Apartment location
more ...
Apartment location
Apartment location
Apartment area
Charles Bridge - 1.1 km

National Theatre - 1.7 km

Old Town Square - 0.5 km

Wenceslas Square - 1.1 km
Guest reviews
more ...
Family HOliday
Flat afforded a care-family holiday and a temporary home away from home. Staff very attentive and helpful. Will be back again in the future.
We were happy but there is a concern....
Our 2 bedroom apartment was just as we expected as we were sent photos when we confirmed the booking. We had 2 issues that needed to be resolved which were a hair dryer that was in working condition and the safe was accidentally locked upon our arrival. These issues were resolved immediately. The lo ...
Available apartments for rent in Milosrdnych Apartments
Sorted by square meters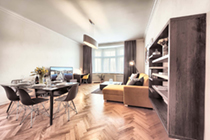 Brand new apartment (2017)

Very spacious and quiet apartment

Few minutes walk from Jewish Quarter

Situated on a 3rd and 5th floor
Prices start at
Daily
Weekly
Monthly
209 EUR
1240 EUR
4000 EUR
Apartment detail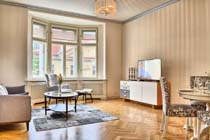 Spacious and quiet apartment

Few minutes walk from Jewish Quarter

Elegant, classic style furnishing

Situated on a 3rd floor
Prices start at
Daily
Weekly
Monthly
189 EUR
1120 EUR
3610 EUR
Apartment detail