Art Residence Krocinova apartments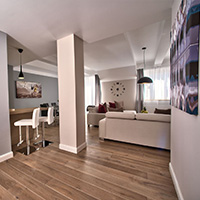 Krocinova 3, Prague - Old Town
Prime location next to the National Theatre

Reconstructed building from functionalistic era of the 30s.

Just 4 minutes from a brand new shopping centre

Superb choice for a family vacation
Apartment location
more ...
Apartment location
Apartment location
Apartment area
Charles Bridge - 0.3 km

National Theatre - 0.2 km

Old Town Square - 0.5 km

Wenceslas Square - 0.5 km
Guest reviews
more ...
First class accommodations
My wife and I stay here with our son and had a terrific experience. They arranged a car for us at the airport and it took us right to the office where we checked in. The process took about 5 minutes They were very helpful and answered all of our questions. The apartment is very spacious, has gre ...
Guest review
Light in the Elevator not working Hose in the shower leaking Only 3 capsules of coffee in the kitchen Nearly all TV Programs in Arabic language!
Available apartments for rent in Art Residence Krocinova
Sorted by square meters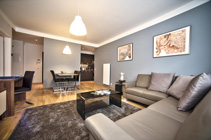 Outstanding location next to the National Theatre

Very quiet 2 bedroom / 2 bathroom apartment

Modern interior, state-of-art equipment

3rd floor of fully reconstructed residential building
Prices start at
Daily
Weekly
Monthly
185 EUR
1100 EUR
3550 EUR
Apartment detail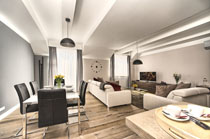 Outstanding location next to the National Theatre

Top quality, very quiet 2 bedroom / 2 bathroom apartment

Modern interior, state-of-art equipment, two balconies

5th floor of fully reconstructed residential building
Prices start at
Daily
Weekly
Monthly
220 EUR
1310 EUR
4220 EUR
Apartment detail