Krizovnicka apartments apartments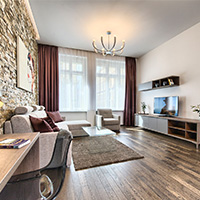 Krizovnicka 6, Prague - Old Town
One minute walk from Charles bridge

Only 100 meters from Vltava riverside

Newly reconstructed spacious apartments
Apartment location
more ...
Apartment location
Apartment location
Apartment area
Charles Bridge - 0.2 km

National Theatre - 0.7 km

Old Town Square - 0.4 km

Wenceslas Square - 0.8 km
Guest reviews
more ...
Great apartment and location!
We had a wonderful time and would return to this property (or another Prague-city apartment) in a heart beat. This location was ideal. The amenities were perfect for us; attractive; spacious; comfortable beds. A+
Guest review
This apartment was perfect. In the centre of Prague and well appointed. The staff was extremely professional and very friendly. Co.ing back to Prague, I would seek these people out again. An excellent experience.
Available apartments for rent in Krizovnicka apartments
Sorted by square meters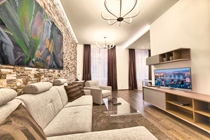 High-end apartment with preserved historical features

One minute walk from Charles Bridge

Modern and fully equipped kitchen

Custom designed interior

Located on a 1st floor
Prices start at
Daily
Weekly
Monthly
114 EUR
680 EUR
2190 EUR
Apartment detail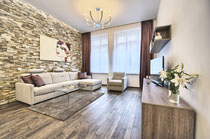 High-end apartment with preserved historical features

One minute walk from Charles Bridge

Modern and fully equipped kitchen

Bedroom windows facing a quite courtyard

Located on a 1st floor
Prices start at
Daily
Weekly
Monthly
180 EUR
1070 EUR
3450 EUR
Apartment detail